Do you love linens as much as I do?  The feel of a thick, cotton, jacquard tea towel just cannot be beat.  And they are so pretty – I just love kitchen towels.  I have loads of them, and by loads I mean laundry loads… Ha!
In my opinion, a lovely jacquard tea towel makes the absolute BEST gift wrapping!  Fortunately, I have a friend or two who agre…  I have gotten them from Sur La Table.  I have them from Anthropologie.  I even order them from Amazon, like these. And these. And maybe this one.  But the best ones I have are hand-me-downs and special gifts from friends.
I still use – every day – a set of three that were hand-me-downs from a girlfriend who got them as hand-me-downs from her sister.  This is why I love them – and why I'm willing to spend the money to buy good quality towels:  They last.  They work.  They stay pretty.
Beyond jacquard, however, the most special kitchen gift from a friend is this incredibly lovely and colorful set of fabric kitchen bags.  I'm super lucky to have a fabulous redheaded quilter for one of my bffs.  She zipped me up some handy dandy kitchen bags on her handy dandy sewing machine, and I love 'em!  Sized like a standard bread bag, they were made simply from a folded fat quarter (or equivalent from her stash) and they're useful for all sorts of stuff.  I use them instead of plastic bags for produce from the farmers market.  They help keep greens and root veg just right in the fridge.  I also use them for packing up picnic gear – they're great double-purpose bag/towels when out for an afternoon at Stern Grove or Hardly Strictly.  She let me pick out some of my favorite fabrics from her quilt pile, so sorry but you just can't get these anywhere else.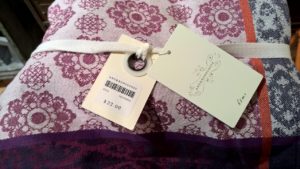 To make your own, simply snag a fat quarter (May I suggest Spool, or your own local quilt shop!?), fold over a nice quarter inch hem and sew a straight line.  Then, fold it in half with the nice side in and the newly hemmed edge at the top, and stich down the long side and back across the bottom.  Just don't close the top!  That's it.  Super easy.  But you can't have mine.
If all my waxing poetic about jacquard has you ready for an upgrade, hop on over to my blog shop.  I love my tea towels so much that I've put together a bunch of really pretty jacquard towels there.  I tend to stay in the yellow family, but I went to town with all sorts of colors for you to choose from .  Let me know which ones you get!