Today, I had the sincere pleasure of singing with a friend from the Hill at a true community event.  A few years ago, a neighbor was grilling for thanksgiving and found herself handing out plates to passersby. What began as a simple neighborly gesture has grown – only three years later – into a free Thanksgiving meal and party for the neighborhood.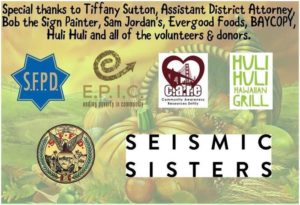 Uzuri Greene coordinated volunteers from the neighborhood, got corporate sponsorship to pay for more than half the food, invited city representatives, coordinated face painting, a bouncy castle, live music, crafts, a raffle with great prizes, and most impressively: the SFPD showed up in force! They served food, played games, jumped in the bouncy castle, took pictures, answered questions and cleaned up afterward. I was so impressed to see the Chief of Police milling about, as well as senior city officials, and representatives from all sorts of organizations and companies.  At least 250 people – probably more – enjoyed a wonderful, sunny, happy day with neighbors and friends and their community over an incredible spread of wonderful food.
And, oh, my, what a spread it was!  Several kinds of rolls – kings and cornbread… Turkey, ham, pork chops AND roast beef… Gravy, cornbread stuffing, some amazing corn with sausage, relish, cranberry sauce, mac and cheese, green salad, and some of the best roasted vegetables I've ever eaten.  Perfectly caramelized, sweet and delicious.
And PIE!  Oh, my.  You know I love pie.  Blackberry pie is my most favorite, and there were more than a dozen types of pie – pumpkin, of course, and apple, pecan, cherry, and some of the best most delicious blackberry pie I have ever eaten! (I want to know who donated those, so I can bribe them for more!)
Thank you, Uzuri, and everyone involved, for making this such a special day for so many people – you brought hope and thanks to many people, and made my holiday!
This is community action.
This is Thanksgiving.
This is America.