Three years ago this week, I found myself at a charming authentic Swiss restaurant, with a charming French man. At the time, I didn't know I was on a date; today, we visited again for our anniversary dinner #1. (We celebrate several anniversaries.)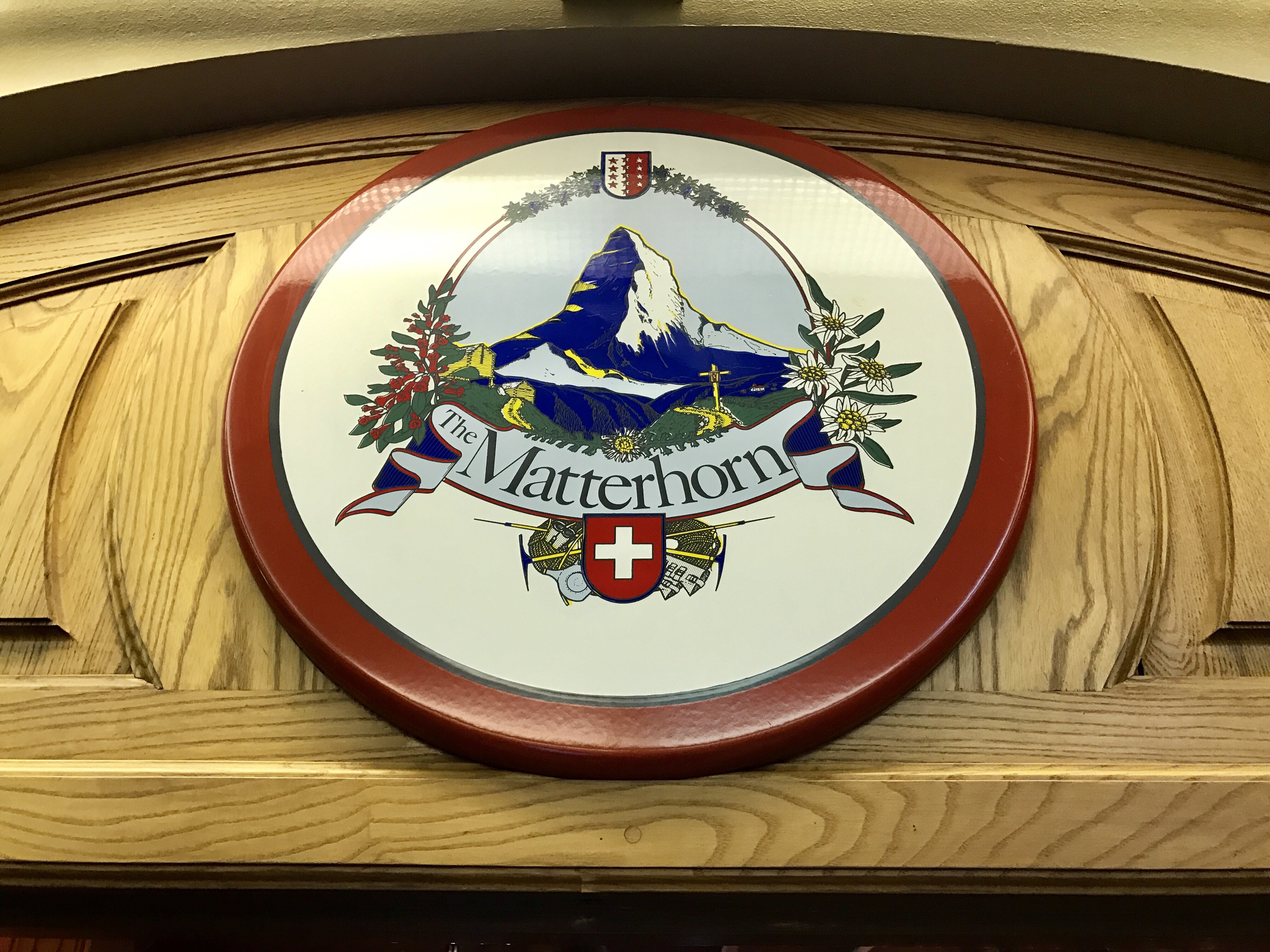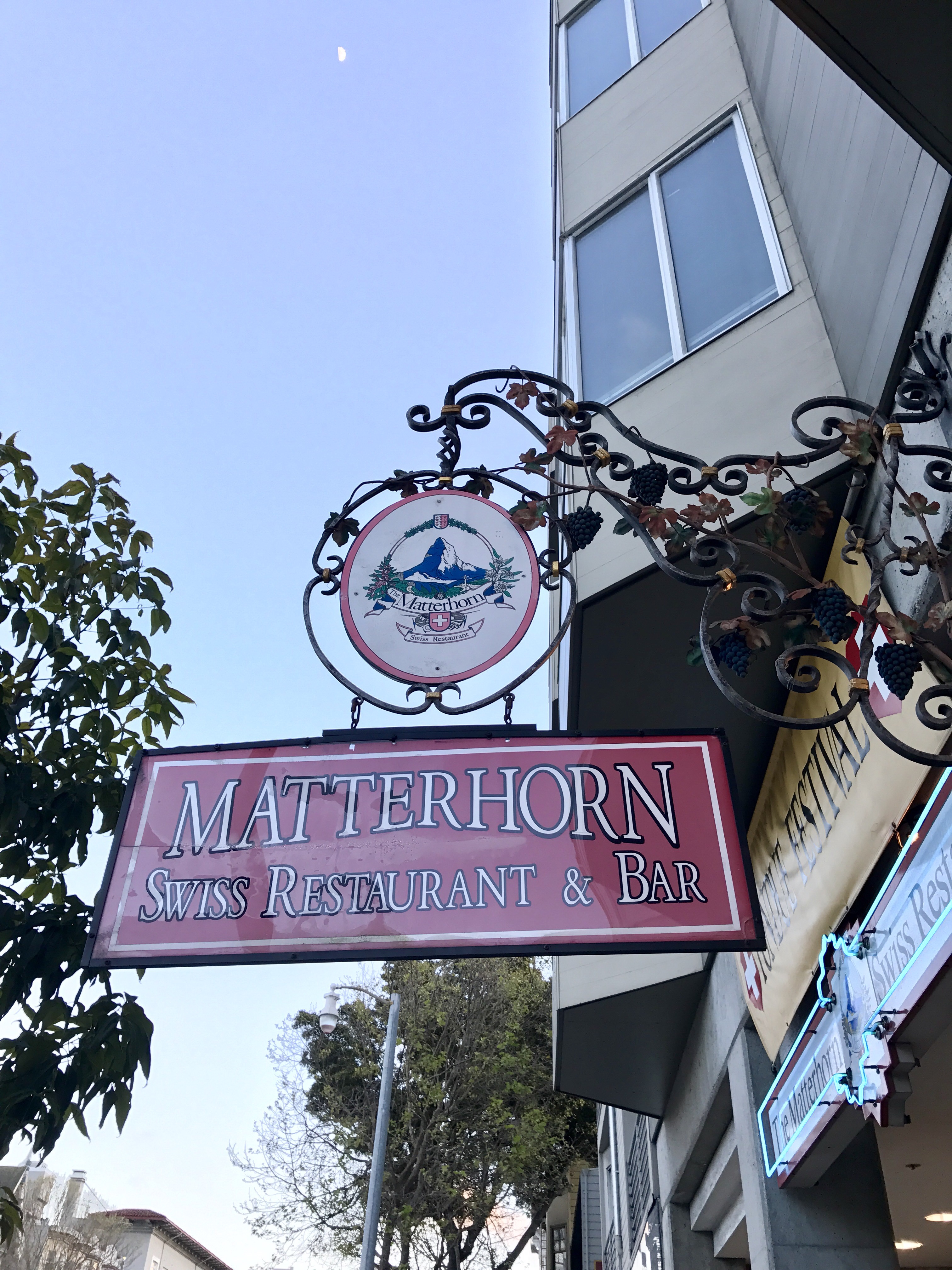 Upon arrival, owner Brigitte Thorpe welcomed us – and recognized us from our few previous visits. This is the kind of place you always feel welcomed – the ambiance and staff together make you want to come back again and again. The restaurant has a nice open feeling along with several cozy seating alcoves and tonight we were tucked into a corner table. When they describe the restaurant on its website as a "casual, smart Alpine setting," it's clear they are referring to the warm wood and quaint decor, but it's also clear they mean they want you to feel at home.
Swiss travel posters line the hallway leading to the main door. Visitors arrive at a doorway into a wood-paneled room full of warmth and Swiss culture. With knotty-pine wood paneled walls, and sweet wooden benches lining the walls it's easy to feel transported – folksy European music, troll masks, flags, floor rugs, linens… having traveled to Switzerland before I can say this place is surprisingly authentic. And a big dose of that come from Brigitte's welcome. Her staff echo the same warmth, and our server was attentive and knowledgeable.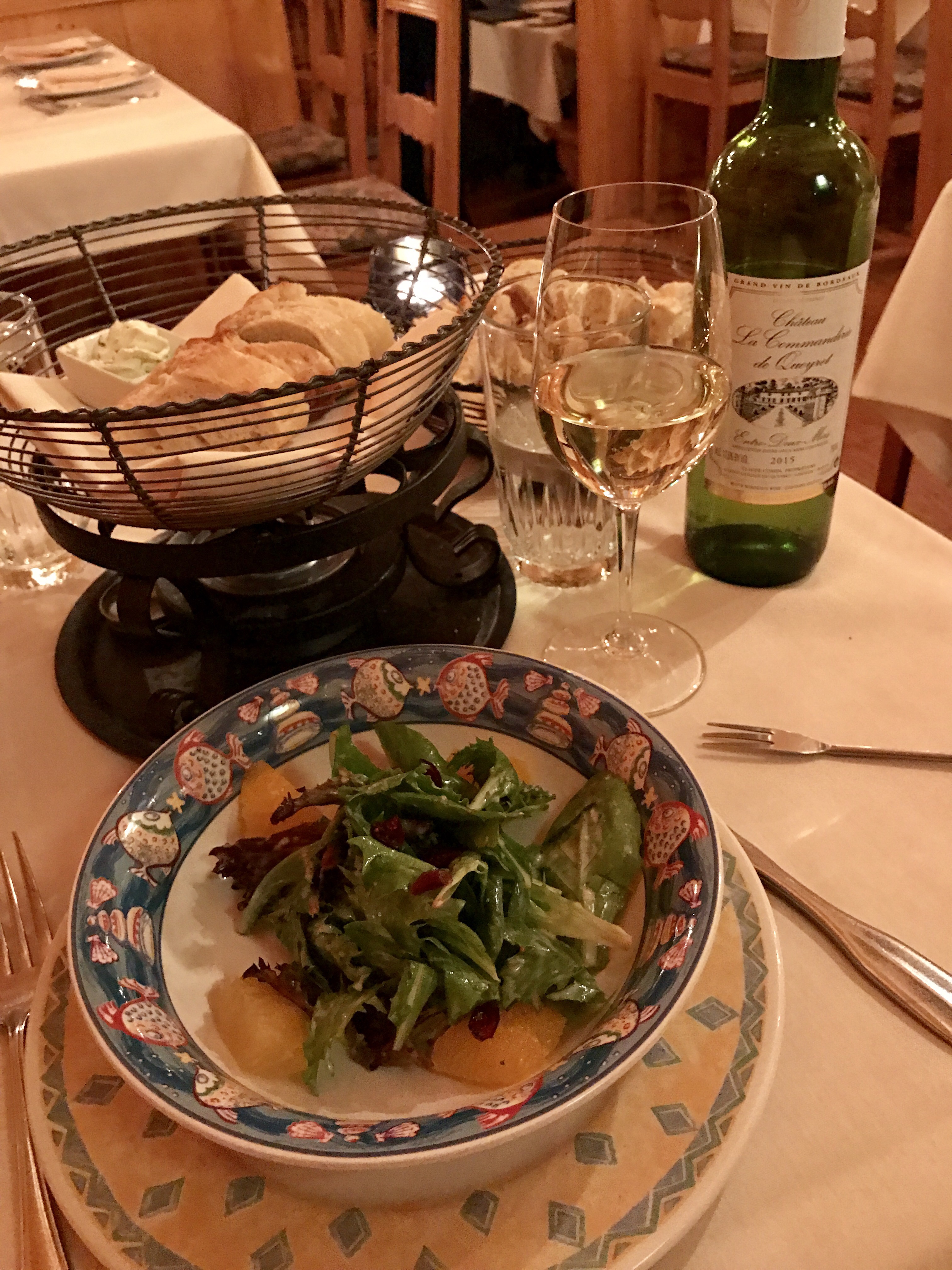 We opted for the Fondue Allemande "The Smoky One" – a fondue blended of smoked cheeses that was tremendously good.Think liquid smoked gouda spiked with white wine… unbelievably good. Our dinner came with a delicious side salad, with fresh oranges and dried cranberries in a light, fresh vinegary dressing. We ordered a side of potatoes and one of fresh baby bella mushrooms. Our server suggested we put our mushrooms into the pot to warm up, which turned out to be great advice. Our potatoes became lovely little smashed starch beds to soak up the drippings from our fondue. These yummy small sides were a great addition to the bite-sized french bread bites served along side. The bread baked onsite is fresh and has a soft crust and open crumb perfect for soaking up the bubbling liquid cheese.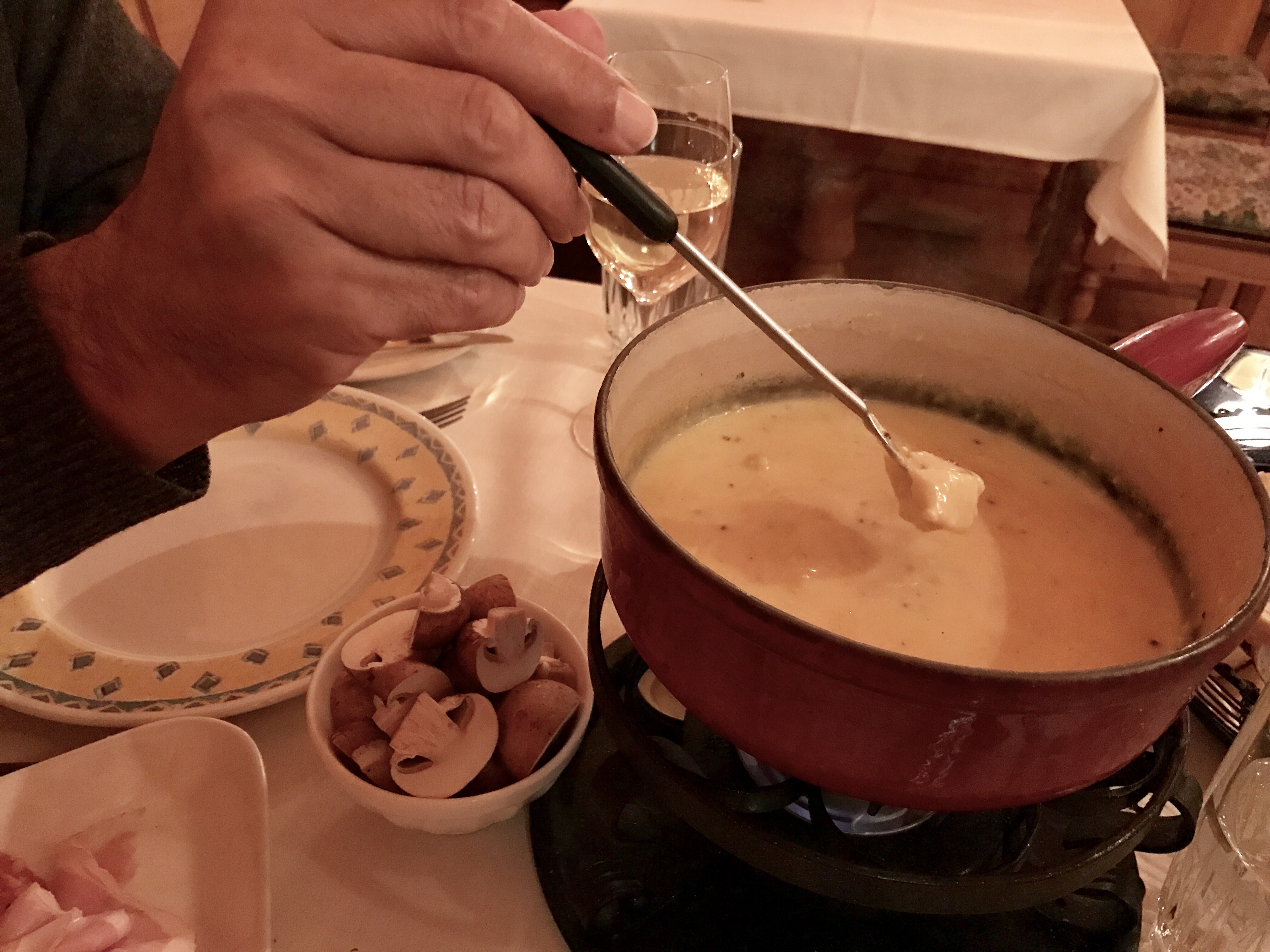 The wine selection is decent – we chose a bottle of Sav Blanc from Bordeaux recommended by Brigitte, and enjoyed a strong coffee at the end of our meal. I wish we had had room for desert, but then again I think it may take me several extra hours at the pool this week to make up for dinner!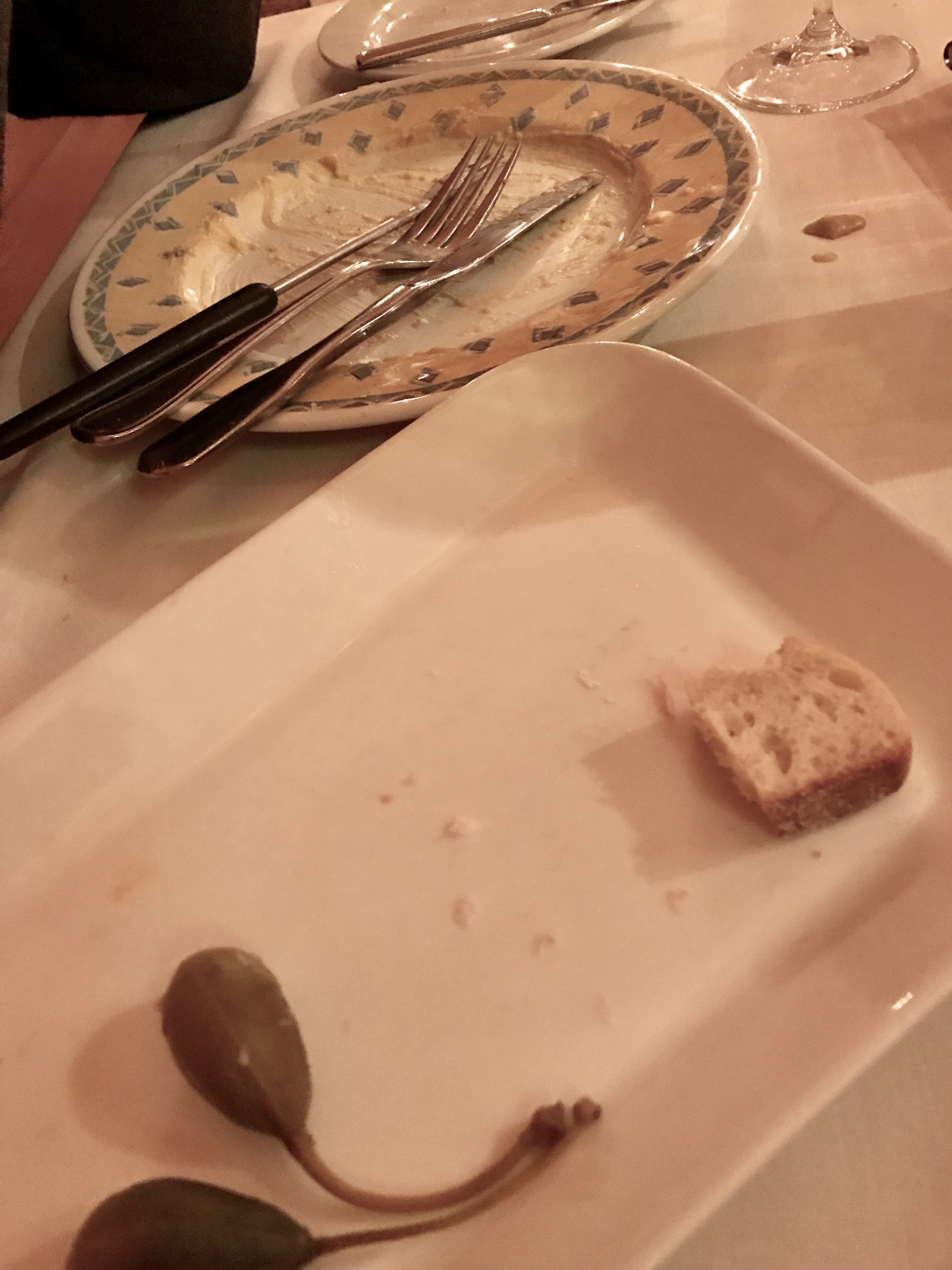 I love this place, and am sad to say that they will gone in a little over a year. After 25 years in business, the Thorpes will be closing their little restaurant – Brigitte tells me they will spend time on the golf courses around Sarasota, FL and enjoy retirement. She is looking forward to serving fondue and raclette to friends at dinner parties in her new home in late 2018, but until then, if you have a chance to get over to Pac Heights and can find a place to park on Van Mess, you are sure to enjoy an authentic, delicious meal.