Sometimes, you get really lucky.  You work with special people, and get to brainstorm and strategize over a rosé and a delicious past while the sun glistens on the water just beyond your table.  Really.  This happened!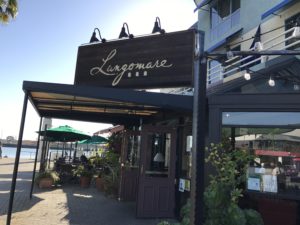 Lungomare sits in a prime spot on the first floor of the building that is the Waterfront Hotel at Oakland's vibrant Jack London Square.  They serve Northern California foodie-inspired fare with an Italian slant, and reference a commitment to local production and quality ingredients.  The restaurant is such a pretty space, and they have a lovely patio that is the perfect mix of shade and sun.  Inside, they have several large spaces, restaurant, bar, lounge – lots of options for events.  A glass wall separates their patio from foot traffic of the Jack London Square plaza, giving it just enough privacy while not blocking the view.
I had the bucatini with Bolognese – a nice thick chewy noodle with a salty-sausage-y-sauce.  My friend/colleague/brilliant business partner had a lovely flatbread.  And we both enjoyed the sunshine!  It's a little on the pricey side –  not a daily lunch spot, but not prohibitive for a work lunch.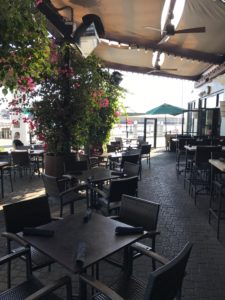 Our server/s were very attentive and friendly – this time and each time we've come.  They did a nice job transitioning us as we sat through a shift change, and we never felt ignored.  We let them know when we were seated that we hoped to settle in for a couple of hours – it was a quiet afternoon and empty patio, so we were glad they were willing to accommodate.
If you're over to Jack London Square, which you should absolutely check out, this is one of a number of enjoyable places on the waterfront.  There are other great food choices, but we choose this place for the water view, good service and peaceful ambiance.