Have you ever eaten a truly spectacular soufflé?  My guess is perhaps not… But if you're ever in San Francisco, let me tell you about the best place to visit for the best desert you've ever had.
I enjoy regular outings to French restaurants organized by a good friend who lived most of her life in Paris and is an active part of the SF French community, and we frequent a very special place in lower Nob Hill.  This evening, there were nearly 50 guests – and that is thanks to not only the company of good friends, but to the souffle…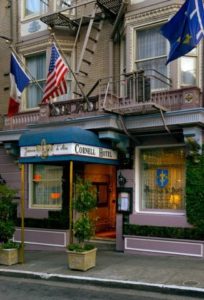 Hidden away beneath the impeccably detailed Cornell Hotel de France, lies the Restaurant Jeanne D'arc.  Enter the hotel through the classic San Francisco sidewalk awning decorated with lights and french flair, and enter an exquisite old world hotel filled with charm and comfort.  A gorgeous, sweet long-haired yellow lab was frolicking with the manager and a rope toy in the reception room when I arrived for supper last night.  Literally frolicking; bunny hop and all.  That's how I felt in anticipation of my dinner – a little hop in my step!  The owner, Monsieur Lambert, was chatting with a guest just inside the door and recognized me from previous evenings.
"Replete with tapestries, stained glass and artifacts, the decor celebrates the life and deeds of France's legendary heroine, Joan of Arc.

Founded by the Lambert family in 1972, the restaurant is the favorite of locals and visitors. Jeanne d'Arc offers a prix fixe menu (four courses) of authentic French cuisine and a selection of well-chosen French and California wines.

Enjoy our specialty dessert: the Grand Marnier Soufflé."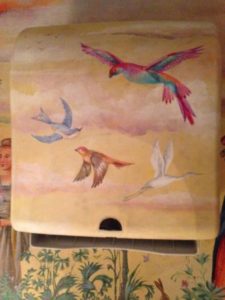 It is hard to describe the level of attention to detail throughout this hotel and restaurant.  Every inch is hand-painted with 15th Century peasants and nobles, flora and fauna, fleur-de-lis, and symbols and images of the Saint herself.  Really – visit the ladies room when you come here to see the most beautiful paper-towel holder you've ever seen.  Ever inch of this place is a canvas and the beautiful art work is truly impressive in both detail, technical ability, and tender beauty.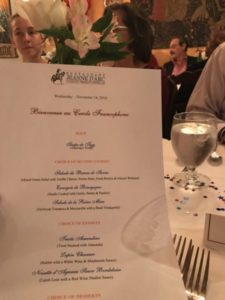 On to the food!  Our Menu tonight was designed for our group but follows their traditional 4-course Prix Fix style:
Asparagus Soup – a blended creme soup, subtle and a perfect appetizer
Choice of mixed green salad, escargot, or tomato and mozzarella
Choice of Trout, Rabbit, or Lamb
Choice of Chocolate Mousse or Soufflé.  (But really, we all know we came for the soufflé!
And of course, french wines and coffee with desert.  A rich, flavorful meal shared with friends — such a treat!