This sweet yummy cake-like batter is a perfect compliment to tart summer plums, and this was just the trick for using up a brown-paper-bag-full of plums I received from a neighbor. A tender not-quite-cake bakes itself up and around a thick layer of fresh plums. Streusel topping adds another layer of flavor and texture. And what better to do with the product of plums-from-a-friend than to share it with friends!?  Add a little vanilla ice cream, and it was a big hit at game night!
Ingredients
7 cups pitted and quartered plums
2/3 cup butter, softened
1 1/2 cups white sugar
2 eggs
3 cups sifted all-purpose flour
1 tablespoon baking powder
1/2 teaspoon salt
2 cups milk
2 teaspoons vanilla extract
1 cup white sugar
1/2 cup butter, softened
1/4 cup all-purpose flour
1 teaspoon spice to taste – I like nutmeg or pumpkin pie spice; some recipes call for cinnamon.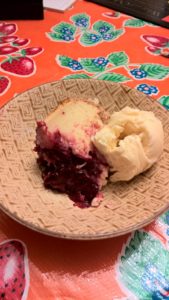 Layer your plums into the bottom of a prepared baking dish.  I used my spring-form pan, buttered.  In a large bowl, cream the butter with sugar until smooth. Add in eggs one at a time, then flour, baking powder, and salt. Once this comes together, mix in the milk and vanilla extract to make a smooth somewhat thin batter. Pour this over your pretty layered plums.
You can make a crumble by mixing 1 cup of sugar, 1/2 cup of butter, 1/4 cup of flour, and cinnamon together in a bowl which you can then sprinkle over the batter to give a nice crunch top.  As you can see, my batter bubbled right on through my crumble, and that was just fine with me: Tasty!
Like all cakes of this type, a clean toothpick inserted in the center somewhere around the 40 minute mark should come out roughly clean – if not, leave it in a bit longer. Should be a dense, moist sponge – almost like a British pudding.