Just over the hill from the Hidden Cottage is one of our favorite brunch places. This fine Easter Monday, we had family in town and decided to indulge in the fresh-baked fabulousness that is Just For You. It's everything you want in a local cafe: casual, easy, welcoming, hearty, and delicious.
Every time I arrive, I'm greeted in the same jovial manner by the same jovial host, who says "Good Morning! We've been waiting for you!" At this point, he recognizes me, and I get an authentic smile to go along with my hearty welcome. Sure enough, he pulls together a table for six in no time flat and we settle in. If you were to go on, say, a Saturday at say 10am, you would get to add your name to a growing wait list. It's that good. And, if the weather cooperates, you can enjoy being sidewalk seated on the public parklet just outside their door.
We didn't get them today, but this is one of a few places in town where you can get real, good, grits. There's a nice variety of eggs, pancakes & french toast, New Orleans & Mexican specialties, California classics, sandwiches & burgers, salads, home-made sausages & breads, hot plates, desserts, and always some daily specials. All their bread-goods are made in house from scratch, and they even now carry some wheat-free options. Plus: It's the only place I go in town to get NOLA-style beignets. Oh yeah.
They're also known for their neighborhood vibe and their quirky decor and signage.  The walls are covered with a bevy of music and concert paraphernalia as well as homages to New Orleans and diner culture.  A quick glance through the menu will keep you smiling with things like their description of grits, and reminders to keep your cell phone off the table. Here are a few smile-provoking images: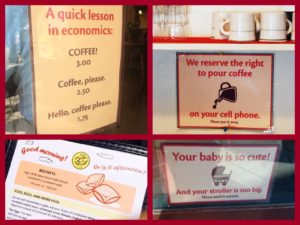 This visit, we had a Gregg's scramble, two orders of the huevos rancheros with the YOWZA! verde sauce made with chicken broth, some biegnets, a burger, some fruit… You know.  A hearty mix of dishes to appeal to young and old, all served with house-made bready treats, and all delicious. We come here again, and again.  When you come to SF, put this on your list of local hang outs.  It's easy to get to: Take the Muni T line out past the ball park and hop off at 22nd.  Walk just around the corner and look for the parklet and the line of people; You can't miss it.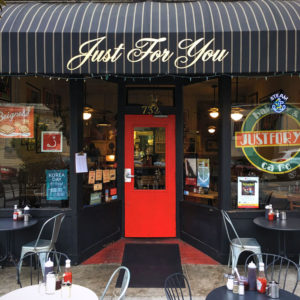 What's your favorite local diner?