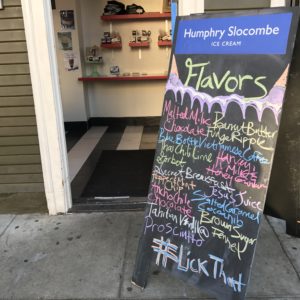 In a city known for fantastic food and numerous ice-creameries, one stands out for me: Humphry Slocombe.  Luckily, the original Mission District location is walking distance from my house!  It was my favorite evening walk even before folks caught on and they were invited to add a location at the Ferry Building, and for good reason: Salted Caramel Cocoa Nib, Elvis: The Fat Years, Brown Sugar Fennel, Sweet Summer Corn, Blue Bottle Vietnamese Coffee, Harvey Milk, and of course their most famous flavor: Secret Breakfast.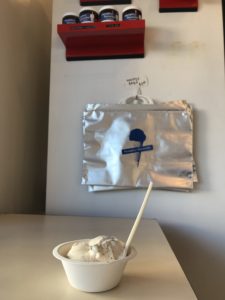 This evening's particular trip was to bring several out-of-town guests to my favorite spot… their full flavors list is incredible, with some flavors so unique they're probably unlike any you've heard of.  All the flavors I've tried are oh, so rich and dreamy it's hard to describe.  My flavor of this day: Malted Milk Chocolate, topped with their infamous bourbon caramel.  D-E-Vine!
There really isn't much more to say about Humphry Slocombe than this: Simply the best.  If you do not live in SF, be sure to visit Humphry Slocombe when you visit.  And if you are lucky enough to here, I surely hope you make this a regular stop!