Hardly Strictly Bluegrass is a San Francisco institution – A free, three-day music festival held every fall at Golden Gate Park, featuring more than 100 incredible bands on seven stages.  As it's name implies, it was once a bluegrass festival but has grown and is now moved beyond strictly bluegrass.  People come from all over the world to listen and perform, and I had the pleasure of spending a mostly-sunny Sunday with a good friend, who set up early and held down a comfy tarp and blanket at the Swan stage while friends came and went throughout the day.  I had the pleasure of seeing all or part of the following acts: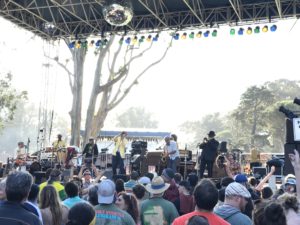 So what is all this fabulous music doing on a food blog, you ask?  Well, when a music fan sets out to spend the day at a festival, planning food is a big part of a successful day.  Usually, my friends pack the world's best picnics, but today – with a smaller group and less room for picnic set up – we kept it simple.  I brought along a lovely large Pink Lady apple and several cheese sticks, as well as a bottle of wine to share, and a beer or two.  By the end of the day, though, I was ready for some real food and made my way through the crowds to find a really wonderful dinner.  From among the many choices, I picked the adobo truck and had myself a really good dinner.  http://www.dabba.com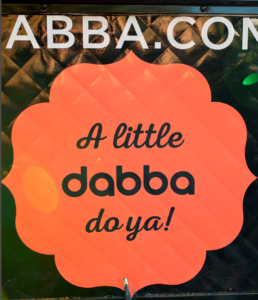 They call this lovely bowl of deliciousness simply a "pork bowl" – which undersells the flavor-packed mountain.  On their menu, it's described as follows:  "12 hour braised Duroc pork finished in our famous Caribbean jerk.  Everything comes with our 25-year old family recipe of marinated carrots, seasonal fruit chutney, tangy tamarind reduction, spicy herb relish, Straus Family yogurt & turmeric rice. Bowls & burritos get yummy garbanzos. Burritos & tacos get our handcrafted, organic, whole wheat tortillas."
The layers of flavor were distinct and complementary.  I loved finding the garbanzos under the chutney, and the turmeric rice is worth coming back for, all by itself.  I was started at how well the tamarind combined with the smoky jerk flavors, and the marinated veg and just-right-sweetness of the chutney made for a really excellent multi-layered bowl.  I have to say, a little dabba was enough to get me to com back again, and again!
Add a sunny sunset, and Emmy Lou Harris singing in the background, and this was a perfect meal.