The farm stand up near my folk's place in Solano County, Larry's Produce, is a beautiful place full of local fruits and vegetables at amazingly great prices. Three giant leeks for only a dollar. How could a girl pass that up!? Here is my Aunt with our entirely-full cart, leeks front and center, for which we paid roughly $45.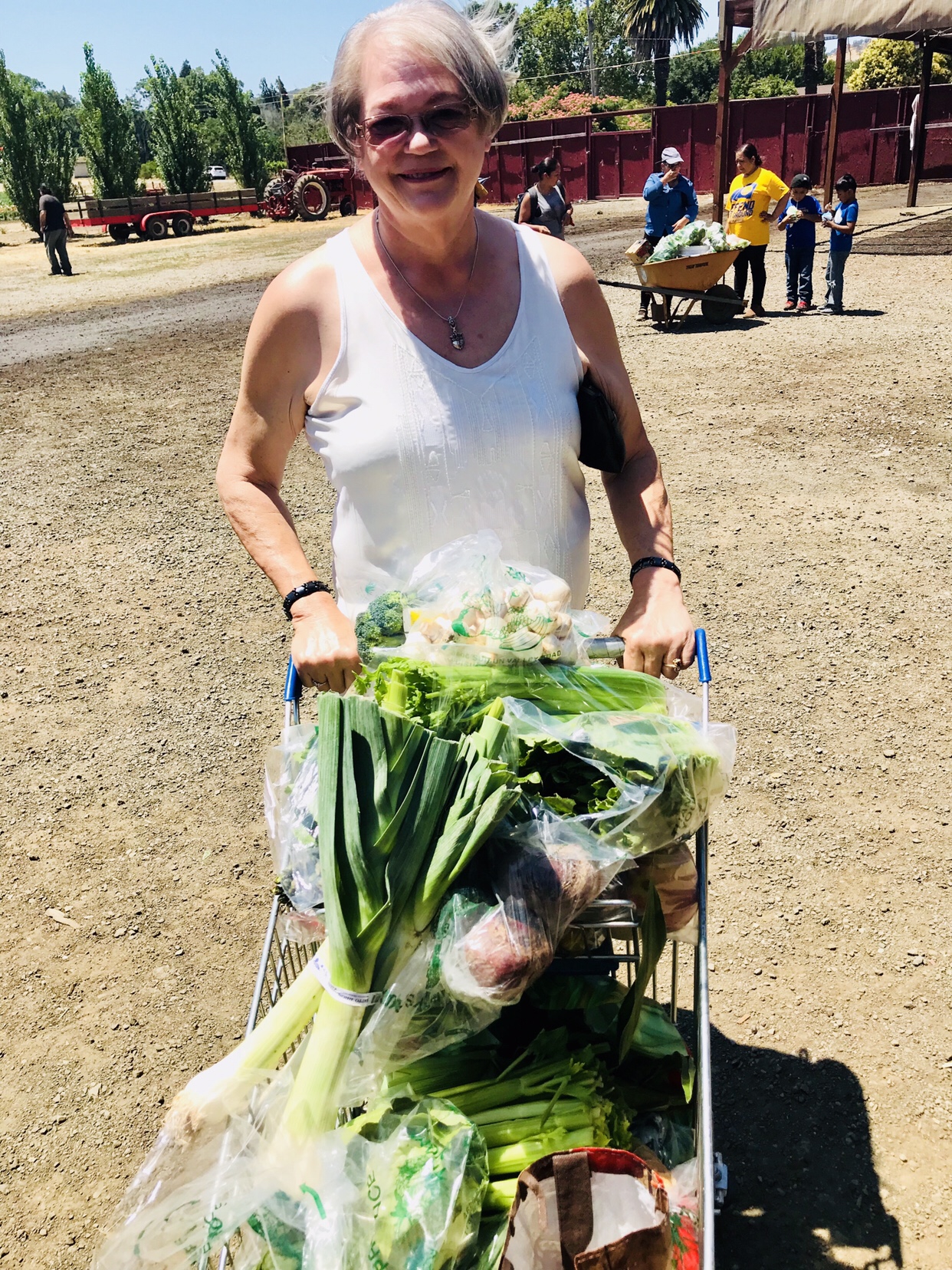 And what better to do with leeks then a classic Cock-a-Leekie soup…
While it is often called "Scotland's National Soup," it probably originated as a simple chicken and onion soup in France. By the 16th century, it had made its way to Scotland, where the onions were replaced with heartier leeks. The first known recipe was printed in 1598, though the name "cock-a-leekie" did not come into use until the 18th century. "Scotch broth" is a related soul-warming favorite.
Now, you may find summer to be an odd time for a hearty chicken and onion soup like this one. However, in San Francisco July is one of our coldest and foggiest months of the year. We have had highs of 60° and fog nearly every day this month. (Karl has been visiting for a very long time…) This rather Scottish weather lends it's self well to a warm brothy soul-healing soup. (And maybe a dram of scotch, come evening.)
Traditionally this soup features hearty peppered chicken, mounds of thick leaks, sometimes rice or barley, and oddly, prunes. As I am currently aiming toward less grain in my diet, I substituted the rice or barley with some thick cut back bacon. I also used one of my favorite kitchen tools: my Instant Pot. Olive oil butter garlic and pepper were layered in first, followed by a basic mirepoix.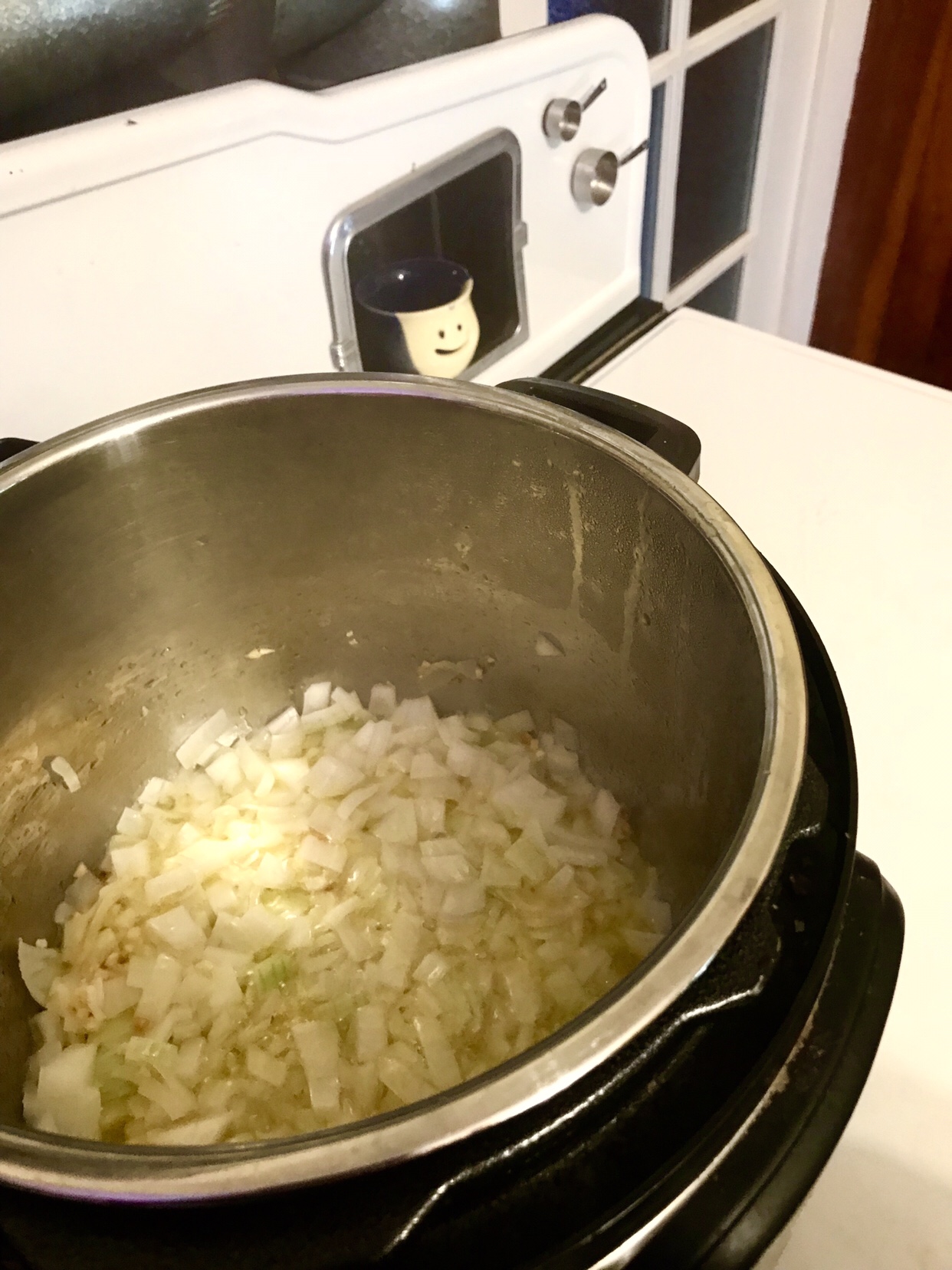 There are many, many ways you can cut an onion. I actually went ahead and used a finely diced sweet yellow onion, along with the garlic, in the butter and caramelized it because I enjoy the flavor it imparts to the broth. Yes, this will make a very onion-y soup!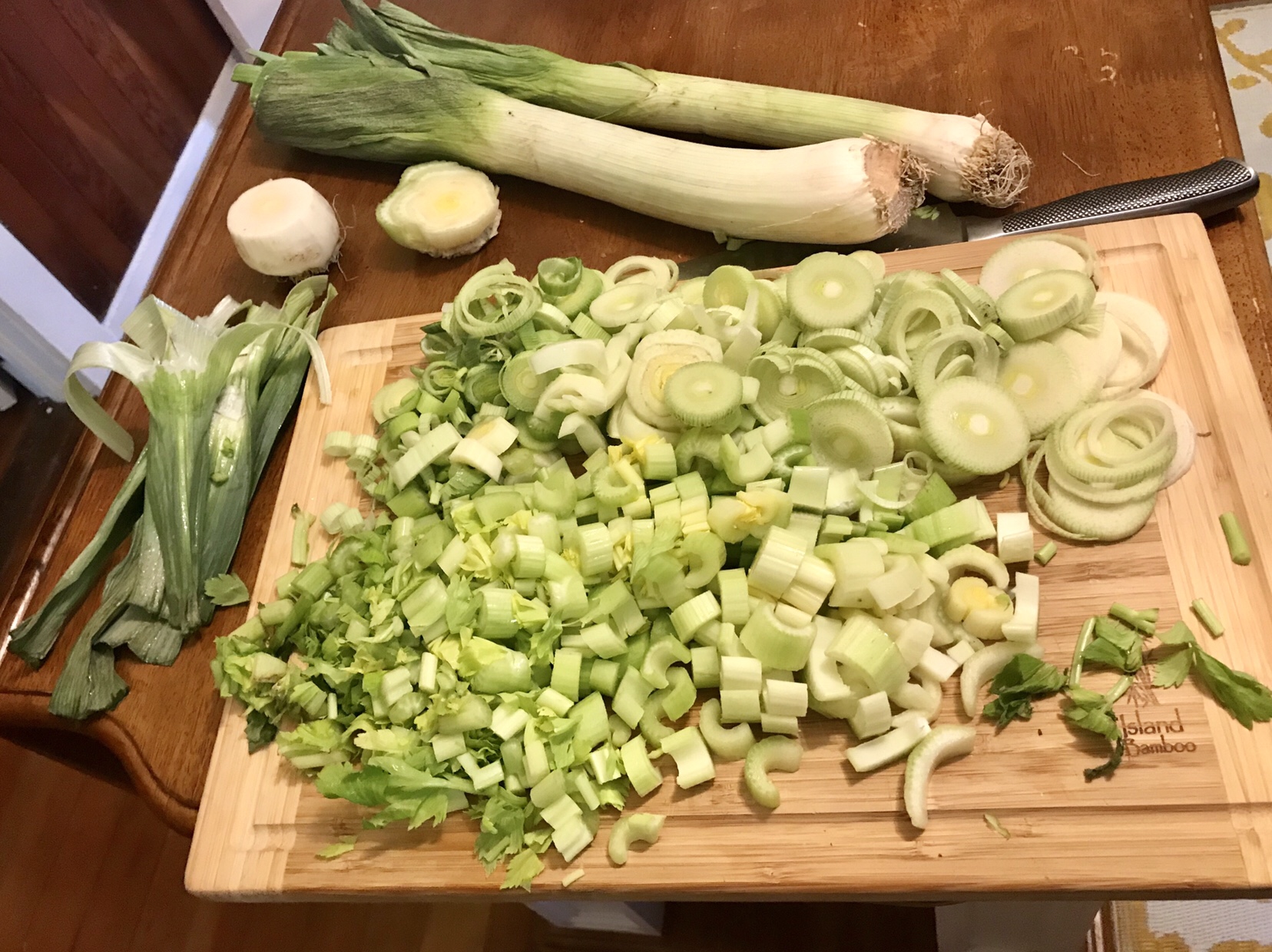 Next came a giant pile of thinly sliced leeks. One recipe I found calls for 12 small leeks; I decided that three giant ones were roughly equivalent. The other primary traditional seasoning is Bayleaf, and of course, pepper.
The old simple Scottish recipes call for boiling a whole chicken overnight, and reducing the broth before removing the meat from the carcass. I wasn't in the mood for that process this week, although last week I did, in fact, do just that with the remains of a five buck cluck from Costco. This week, I added some chicken breasts and thighs from the freezer along with some Better-than-Bullion. And, that's about it.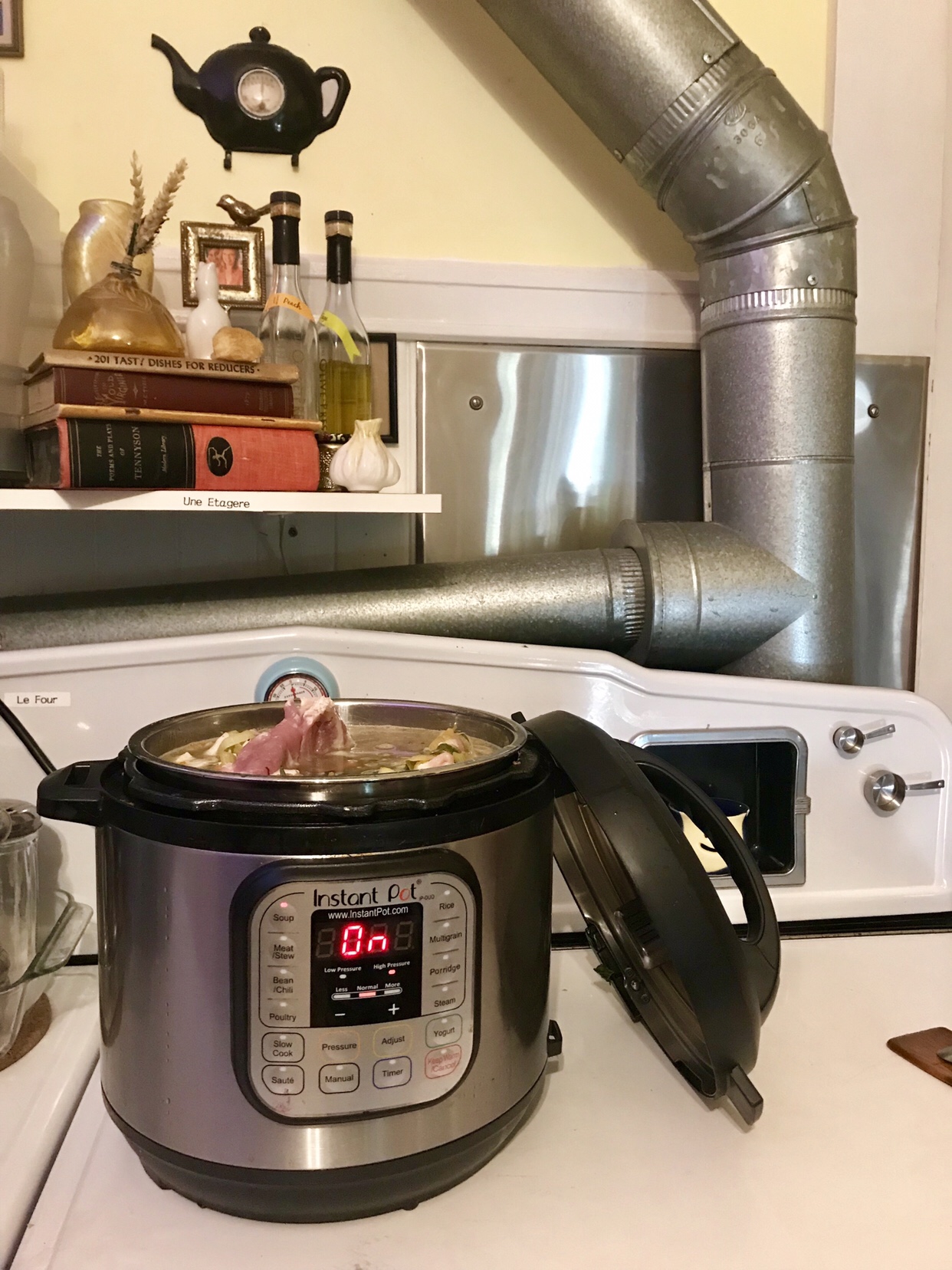 It really is pretty much that simple:
Butter/olive oil (I use both.)
Garlic, just a little
Black pepper, ground
Chicken
Leaks
Carrots
Celery
A few Bayleaves
A sprinkle of other herbs, of your choosing
Rice/barley
And/or bacon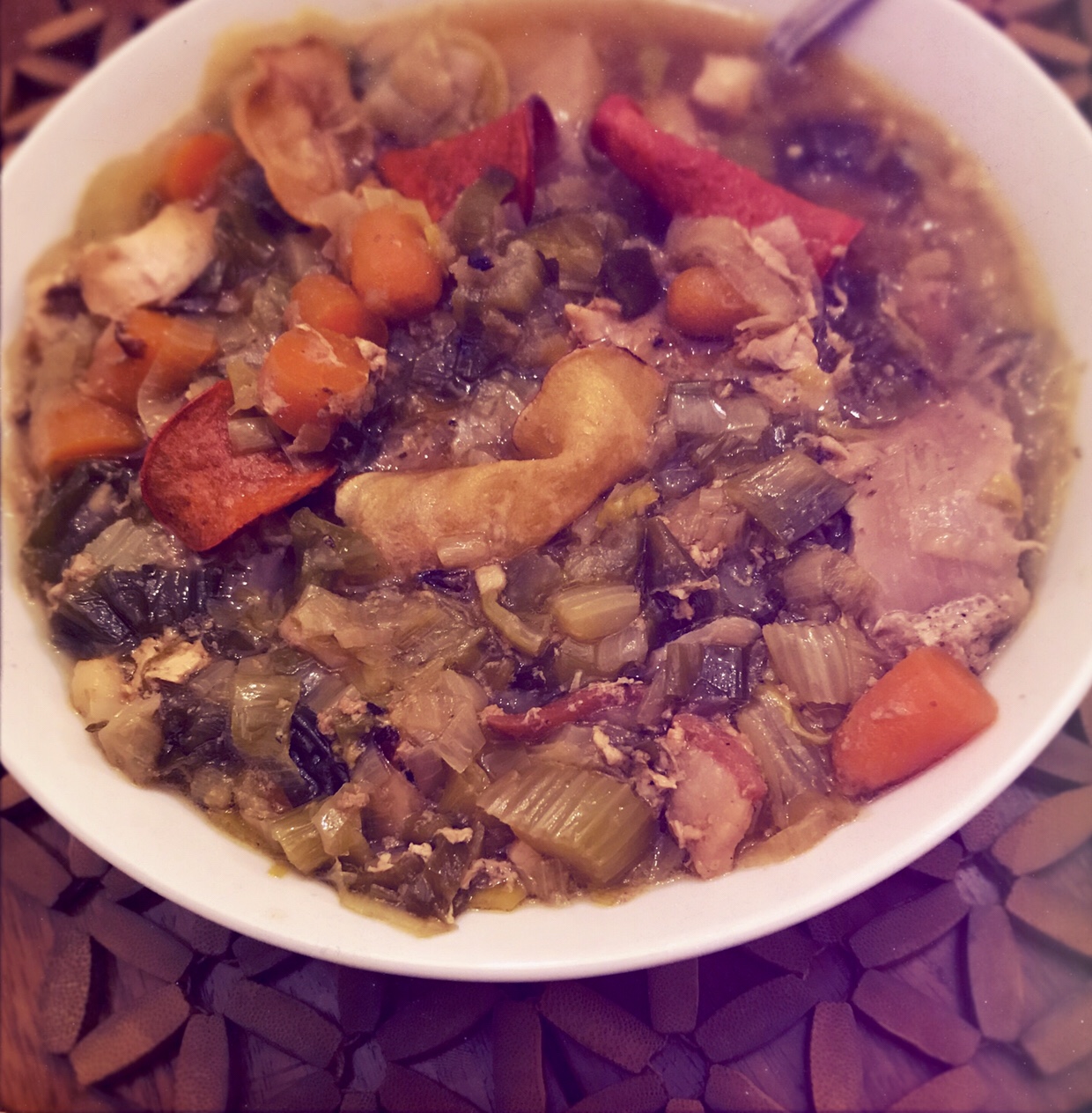 I will garnish with some dried fruit, probably apricots and cherries. I don't believe I have prunes this week. And, owing to a habit of my great aunt Margaret's, I adore a dollop of sour cream on my chicken soup. All in, including pulling everything out, chopping everything up, washing the cutting board and knife and putting everything away, and hitting start on the Instant Pot, this was about 20 minutes of prep time.