Inspired by the Great British Baking Show, I decided to make a cake for a dinner party with friends this weekend.  I took inspiration from local bakery, Miette, and went with a nearly-naked chocolate cake with pretty pink frosting.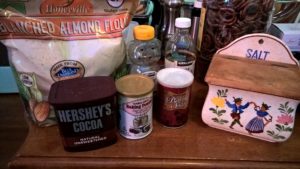 We had weekend guests staying with us for a special trip to visit relatives in the city.  One was gluten intolerant, and I wanted to make something special since we were hosting everyone for dinner.  I used the Epicurious recipe, found here: http://www.epicurious.com/recipes/food/views/chocolate-cake-367670
You can admire my grandmother's salt box – which I actually use to store salt.  I'm told she used it to hold recipe cards later in her life, but I've been so happy to have it handy for throwing a pinch over my shoulder from time to time as she once did. And for cooking.  You'll see my Costco groceries again on display here; They have the best price on almond flour. And I have the Kirkland vanilla and honey, too. Trader Joe's has limited baking stuff, but what they carry is good and who doesn't love a trip to TJ's?
Unlike cooking, with baking, I at least try to follow the recipe somewhat closely.  I suppose people go to box cakes for presumed ease, but scratch cake is far easier to bake than people think.  I covered this one with a fluffy raspberry cream cheese frosting.
I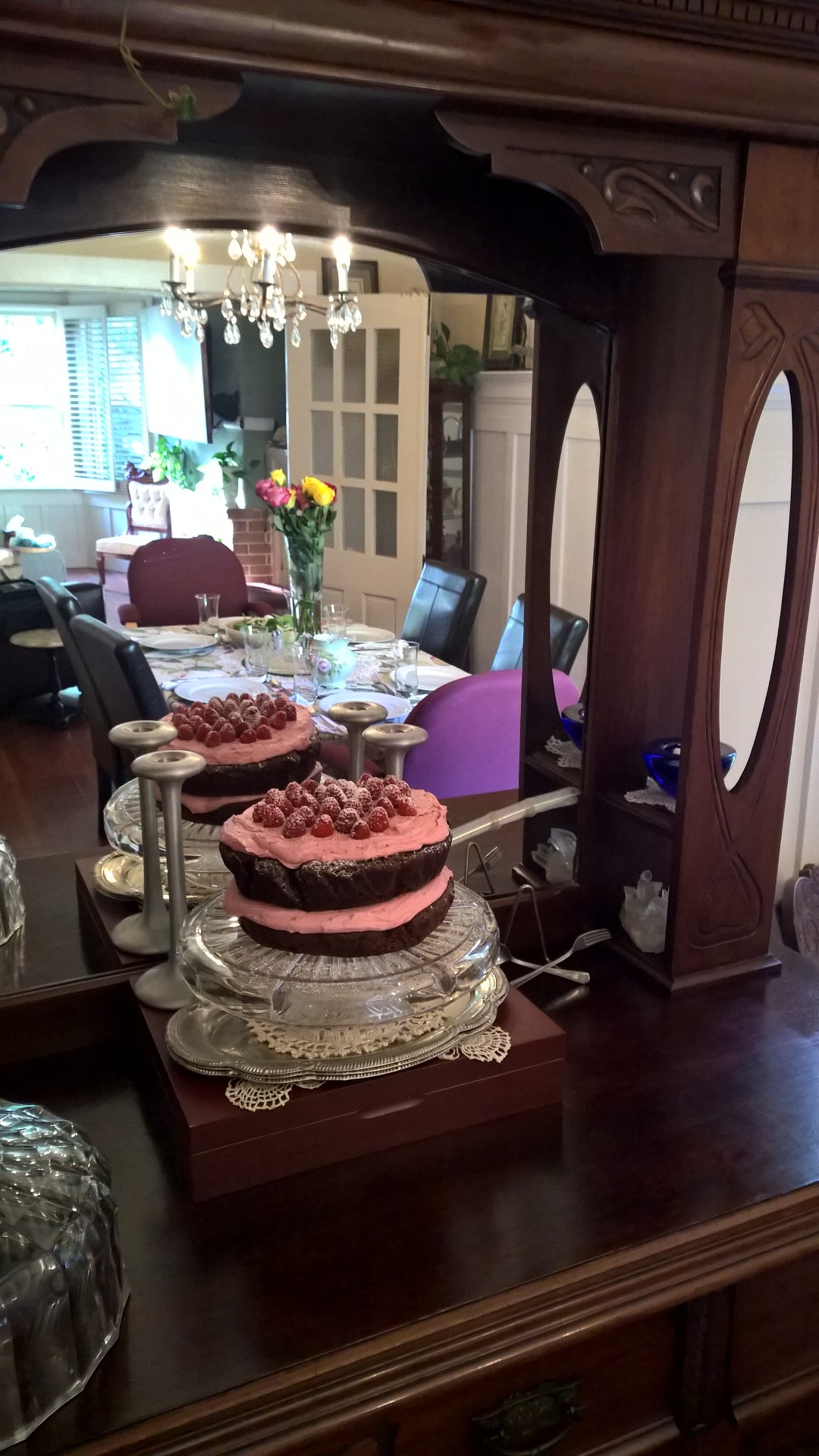 wanted to be sure this was a fluffy, light cake, since I know almond flour can have a tendency to bake into a dense sponge.  Some of the comments on Epicurious talked about this recipe turning out bland and a bit dense.  So in addition to the requested 1/2tsp baking soda, I added an equal part baking powder.  I'm not one who knows the chemistry of baking, but I have found this to be a good way to boost the raise on a cake like this.  I didn't have agave on hand, so I used part honey and part regular sugar with a spot of oil to replace the missing wetness.  I bumped up the cocoa powder, too, and I made just one other adjustment: For fun, to literally spice things up, I added a bit of a kick to half the batter by stirring in a pinch of cayenne. Not too much, but a little bit of heat was a subtle surprise to one of the tiers.
No recipe needed for cream cheese frosting: Add cream cheese to the Kitchen Aide mixer and a little splash of lime juice.  This time, I had fresh raspberries and blackberries, so into the cream cheese they went! When that was all blended up, I added powdered sugar until it was the right consistency: Fluffy, and peaks up nicely when you pull out the beater. Topped with more fresh berries and a little sprinkle of fairy dust, et voila!
My guests brought some fantastic icecream along – I hadn't tried Alden's before, but I was sold!  Salted caramel was a surprisingly perfect pairing for chocolate cake. What a way to end a meal!