This week, my niece came for a visit and mentioned she likes to cook.  So when we had friends over Sunday, we got a little adventurous and cooked up some artichokes.  Since they are in season and notoriously tricky to get soft enough, we decided to get out the Instant Pot.  Now, you can do this in any slow cooker, but I'm enjoying experimenting with my Instant Pot so that's what we used.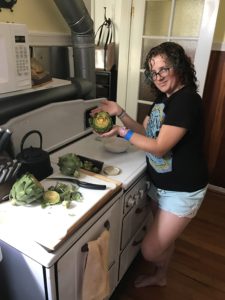 Prepare your fresh artichokes by rinsing, trimming back the stem, and slicing off the sharp tips on the top of each artichoke.  Before you set them into your slow cooker, open each choke by pulling your fingers over sliced top.  Once they're nesting happily in your slow cooker, you can start layering on the yummy goodness:
Drizzle olive oil
Spread freshly-chopped garlic
Pour over a nice buttery white wine
Sprinkle with salt and pepper
Squeeze a fresh lemon
Splash of water in the bottom
Place your lid on – and if it's an Instant Pot, be sure you adjust the lid so it's properly seated and the vent is open since we'll be slow cooking rather than pressure cooking.  Turn on your slow cooker setting to medium high and let it go 3-4 hours.
When it's done, you'll have lovely soft leaves, perfect for dipping and chewing.  The choke will still need to be scooped out, but when you've enjoyed the leaves, you'll be left with a perfectly steamed and seasoned artichoke heart.  This is where the next layer of fun can start – you are now ready for anything you can dream of with artichoke hearts! Baked, au gratin, in a spread…
What's your favorite?